ERIE CANALWAY CHALLENGE
eriecanalway.org/explore/challenge
Book Signing Dec. 2021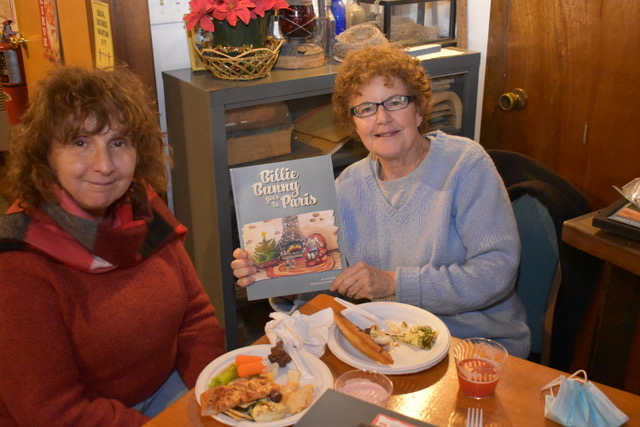 We were very pleased to host Joan Cofrancesco for a book signing of her great new children's book entitled, BILLIE BUNNY GOES TO PARIS. Janine Bartolotti, the book's illustrator, was also with us. Joan is a gifted prolific writer, and you may enjoy her other works.
VOLUNTEER DINNER March 19, 2022 Senior Center POSTPONED UNTIL FURTHER NOTICE
VOLUNTEER ORIENTATION DAY April 9, 2022
CLEAN SWEEP April 23, 2022
SUMMER @ THE LIZ AND DAVE BEEBE ERIE CANAL PARK
Sunday, May 1, 2022 OPENING DAY at the Liz and Dave Beebe Erie Canal Park and Sims' Store Museum, 5750 DeVoe Road. The museum, filled with canal memorabilia, is open Sundays from 1-5 P.M. Narrated Boat Tours on the historic canal travel across the 1844 Nine Mile Creek Aqueduct, the only restored navigable Aqueduct, in New York State. (Sailings 1,2,3,4 P.M.; $4 adults, $2 children 5-12, under 5 free, maximum family $11), snack bar, gift shop and picnic pavilion. Kayaks and canoes are welcome. Fishing is permitted. The park is open daily year-round and is part of the Canalway Trail extending from Buffalo to Albany. There are 13 miles of trails for hiking and biking. Additional museum hours: Wednesdays and Thursdays Noon - 4 P.M. The museum is open Saturdays year-round from Noon - 4 P.M. Groups tours and use of the pavilion can be arranged by appointment 315-488-3409.
STEAM-UPS May-Oct. The second Sunday of each month. (Refer to Steam Engine Exhibit page)
SCHOOL TOURS BEGIN May 4, 2022
MEMORIAL DAY PARADE & VOLUNTEER PICNIC May 30, 2022
CYCLE THE ERIE July 13, 2022
VOLUNTEER CHICKEN BBQ July 23, 2022
TOWPATH DAY August 13, 2022 11 A.M. - 4 P.M. LEGACY OF THE ERIE CANAL is a family orientated festival celebrating canal history featuring a series of narrated vignettes along a mile section of the historic canal. Other activities include: Rotary 5K Race, demonstrations of old fashion crafts, blacksmith, kids stuff, all types of vendors, steam-up, raffles, "PADDY", the Mule, with live entertainment and food. www.eriecanalcamillus.com